Do I need to take vitamins?
Vitamins are definitely necessary for our body. And among them there are "basic" elements, such as vitamin D, which is necessary for almost everyone, because the body does not get in the right amount. Another example is vitamin C, which strengthens the immune system during colds.
"Vitamins are involved in the processes of hematopoiesis, the synthesis of hormones and enzymes, support the normal functioning of the cardiovascular, digestive, respiratory and other body systems. But this does not mean that they need to drink them everyone. Most people can get all the necessary vitamins and minerals by following a healthy balanced diet. Seasonal fruits and vegetables are especially rich in nutrients and can help you build up a "supply" of vitamins. But if for some reason you can't include the right foods in your diet, you can remedy the situation with vitamin supplements.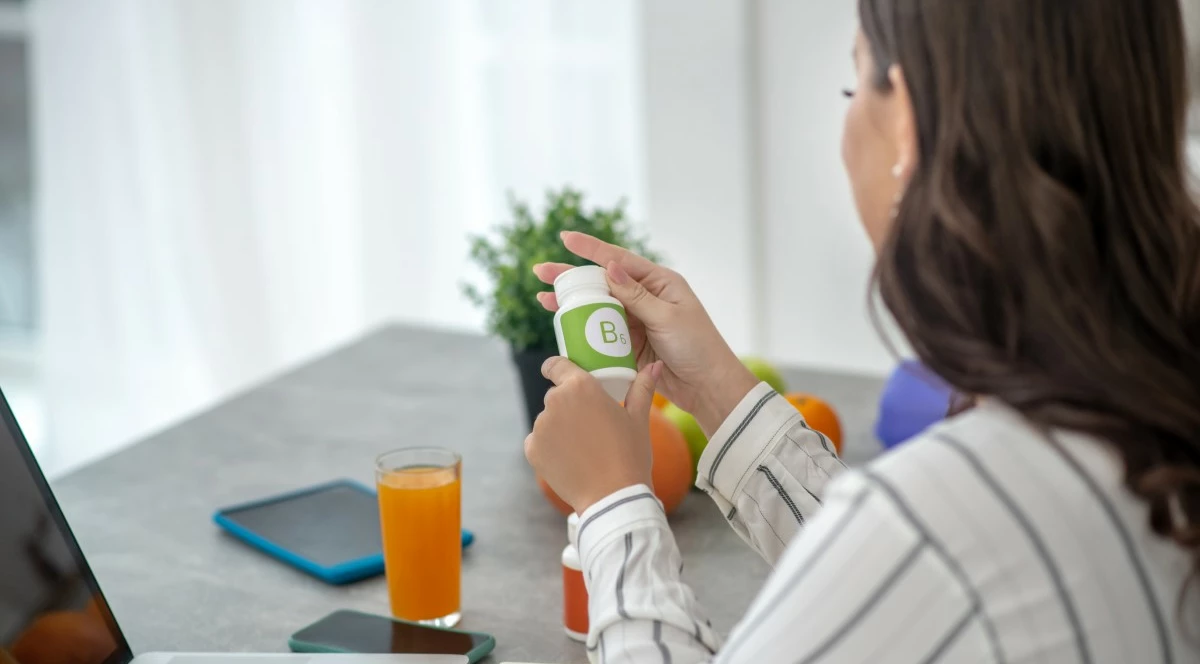 In fact, true avitaminosis is rare today, so before making this diagnosis, you should consult a doctor who can prescribe tests for vitamin levels. It is possible to check the level of a single element as well as to take a vitamin or mineral panel and get information about the content of a group of elements in the body.
So, can vitamins solve some health problems? There is no definite answer. Although they can definitely improve things if you know exactly what you need. Next, let's take apart the most popular problems and the vitamins that can be helpful.
Fatigue and Stress
Fatigue can be caused by severe stress from disrupting your normal routine, or it can be caused by physiological factors. Fatigue can be a symptom of anemia, fibromyalgia, autoimmune diseases, thyroid hormone imbalances (hypothyroidism, hyperthyroidism), kidney disease, etc. Also chronic fatigue and drowsiness occurs in people who suffer from insomnia. To rule out the development of serious pathologies, it is worth consulting with a therapist, who will gather a medical history and, if necessary, refer you to a neurologist, endocrinologist or other physician of a related specialty.
If you are in a relatively safe place, trying to eat well, rest and stick to the daily routine, and fatigue still occurs and is not accompanied by other symptoms, it is possible that your body lacks energy. B vitamins are the best way to replenish it:
B1 (thiamine) – helps release energy by breaking down carbohydrates. The best sources are sunflower seeds, sea salt, lentils, black beans, and oats;
B2 (riboflavin) – helps convert proteins and fats into energy, which is especially important for energy production in the heart and muscles. Found in eggs, natural yogurt, turkey or beef liver, spinach;
B3 (niacin) – A co-factor in more than 200 enzyme reactions, including affecting thyroid hormone production. It is found in tuna, chicken, turkey, lamb, beef, brown rice, and peanuts;
B5 (pantothenic acid) – especially important if energy levels have dropped due to severe stress because it is involved in the production of stress-reducing hormones. The best sources in food are broccoli, lentils, and peas;
B6 (pyridoxine) is an essential vitamin needed for normal energy metabolism because it participates in the breakdown of glycogen stores (found in muscles and liver) into energy, as well as the development of building blocks of protein and DNA. It forms a reserve (!) of energy. It is found in bananas, spinach, potatoes, bell peppers, etc.
If it is not possible to replenish the necessary levels of vitamins B1-B6 from foods, you can consider taking vitamin complexes containing them. However, before taking them, it is best to consult a doctor who will select vitamins for constant fatigue.
Broken hair and nails
Perhaps the most common request from women is vitamins for hair and nails. When hair becomes dull, dry, begins to separate, break and fall out, it is best to come for a consultation with a trichologist, who will examine the locks with a trichoscope, assess their condition and give appropriate recommendations.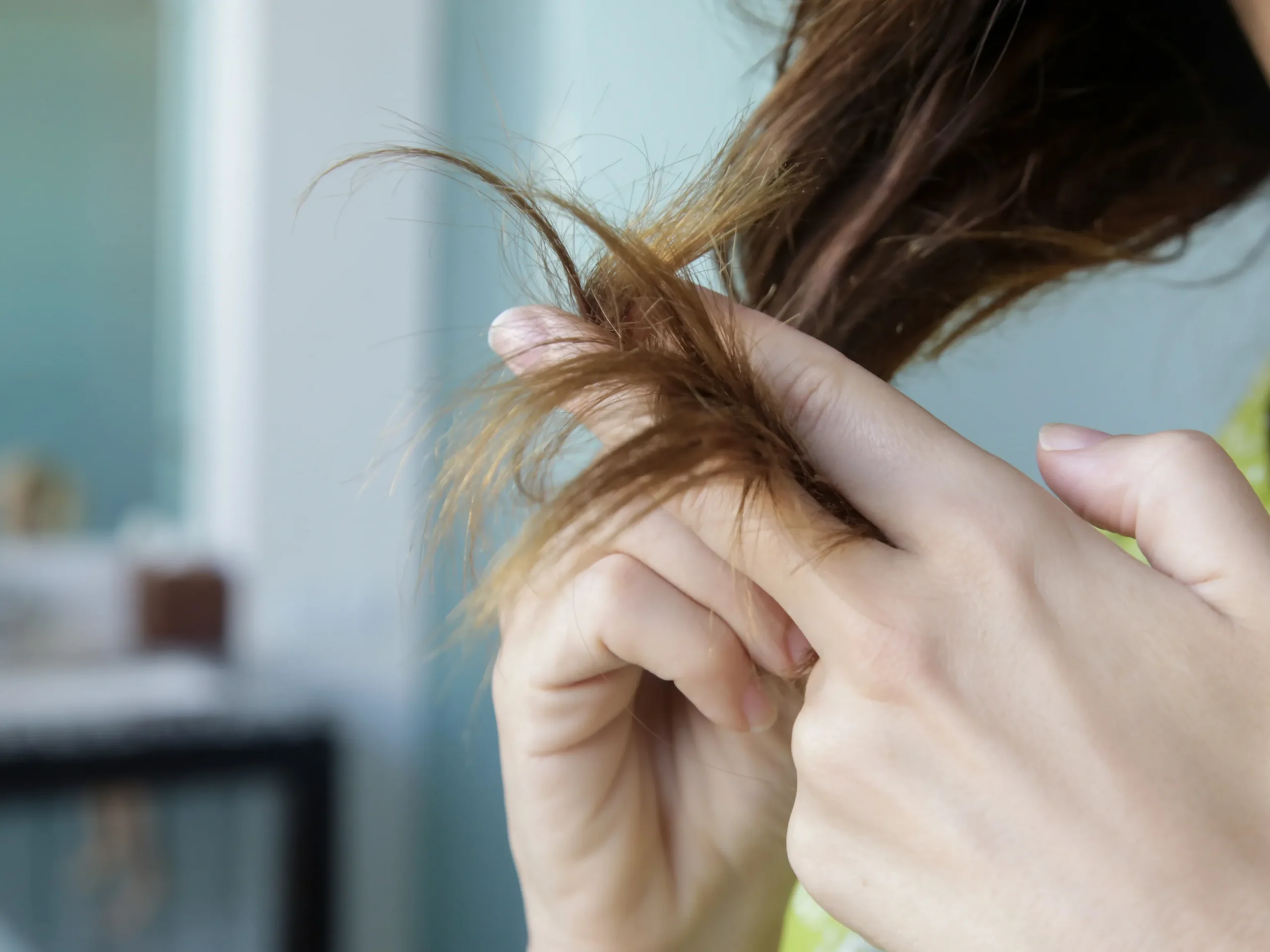 If the cause is a lack of vitamins for the hair, the following elements will help to correct it:
Vitamin A – promotes the production of sebum, which protects the scalp and keeps the bulbs healthy. It is found in carrots, pumpkin, spinach and cabbage;
B vitamins – B7, known as biotin, helps prevent hair loss. Other vitamins from this group also help to increase the number of red blood cells, which are involved in the transport of oxygen and nourish tissues and organs (including hair follicles). It is found in meat, fish, seafood, whole grains, almonds, dark leafy greens, etc. Vitamin B12 is found exclusively in animal products (meat, offal, fish, eggs), so vegetarians can get it only from vitamin complexes;
Vitamin C – an antioxidant that protects the hair from aging and oxidative stress caused by free radicals. It helps to assimilate iron. Found in large amounts in sweet peppers, strawberries and citrus fruits;
Vitamin D – low levels can lead to alopecia (hair loss). Most people in our region do not get the right amount of vitamin D from sunlight, so it makes sense to consult a doctor about taking it. In food, vitamin D is found in oily fish, cod liver oil, and in small amounts in mushrooms;
Vitamin E, like vitamin C, has antioxidant properties. Studies have shown that after taking it, hair growth improved in 34.5% of respondents. Good sources of vitamin E are sunflower seeds, almonds, spinach and avocado.
If your nails are peeling, you probably need B vitamins, especially B7. It promotes healthy cell growth and helps in the metabolism of protein amino acids, which are necessary for nail growth. According to studies, taking biotin helped get rid of nail problems in 60% of respondents.
Iron can also strengthen the nails. It is the basis for red blood cells, which carry oxygen. And because healthy nails need oxygen, iron deficiency or anemia can lead to vertical grooves in the nails, causing them to become concave or spoon-shaped.
Joint pain
If you feel joint pain, you should not self-medicate because it can be a symptom of serious musculoskeletal problems.
"Aching pain in the joints at rest, stiffness of movements may indicate inflammation. In this case, you need a comprehensive diagnosis, including ultrasound of the joints, and medication treatment. No vitamins and supplements for bones and joints will help to get rid of the disease, but they can be a supplement to therapy and improve the condition of the joints. First of all, vitamin D is needed, which has anti-inflammatory properties. Its deficiency can also lead to rheumatoid arthritis, so it is important to monitor the level of vitamin in the body.
Other vitamins and supplements for joints:
Probiotics – help relieve joint pain if it is caused by autoimmune disease;
omega-3 polyunsaturated fatty acids – helps slow the progression of arthritis. Contained in fish and fish oil;
Calcium – a major building element for bone tissue. Contained in milk, cheese, dairy products, nuts, dried fruits, etc.;
Vitamin K – supports bone and connective tissue health. Contained in greens (cilantro, spinach, lettuce), green onions, broccoli, white cabbage and Brussels sprouts.
If you plan to take calcium, note that without vitamin D it can be poorly absorbed, so it is best to take them in combination.
Vitamins are not a magic pill for all diseases, but they can be a good support for the body and help alleviate some problems. Among the variety of companies and names, it is important to choose the right vitamin complexes, guided by the advice of your doctor, not by advertising.